Creating the perfect social media post doesn't have to be a chore.  Here are the seven apps and tools I use regularly to quickly create social media posts that hit the mark and look great.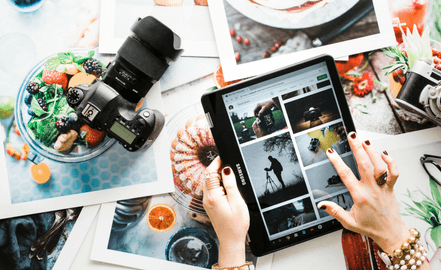 1 – CREATE PROFESSIONAL IMAGES WITH VSCO
A stunning image is key to creating a social media post that grabs attention. VSCO makes this easy to achieve on your mobile phone. VSCO is photo editing app that's available on both android and apple devices.  You can choose from pre-set filters or manually enhance your photos quickly.  You can either save the edited photos direct to your phone, or post direct to your social meda channels.  Now there's no excuse for under-exposed dull photos!
2 – CREATE AWESOME GRAPHICS AND CREATIVES WITH CANVA
If you want to add graphics or use an interesting design format for your social media posts, then you can't ignore Canva.  With an incredibly intuitive user interface and lots of pre-designed templates you can make social media posts that combine your photos, or purely use graphics with ease.  You don't need any graphic design experience to use this brilliant tool.  The entry level version of Canva is free, and will suit the needs of most small businesses.  You can also use it to create brochures, invitations, infographics and much more.
3 – AVOID POSTING WEBSITE LINKS THAT LOOK A MESS WITH THE FACEBOOK DEBUGGER
Have you ever posted a link on Facebook to your blog post only for it to look hideous once you hit publish? All that awesome work wasted! This is a common problem which can be avoided if you use the Facebook Debugger tool to preview how Facebook will show your link.  Simply enter the URL and you'll see what Facebook will publish.  If you need to make any changes to your images or meta-data, simply re-enter the URL once fixed and Facebook will re-check it for you.
4 – DRAW ATTENTION TO YOUR POST WITH EMOJIS. 
Inserting emojis into your social media post can inject humour, personality and grab attention.  But inserting them into posts from your laptop or desktop device can be painful.  I love emojipedia for this.  Search the for emoji you need and then hit copy.  It's then ready for you to paste direct into your post from your computer.
5 -CREATE SHORTER URL'S THAT HELP YOU TRACK PERFORMANCE OF YOUR POSTS
Did you know that you can track which social media posts drive traffic to your website? By creating campaign URL's using the Google campaign URL builder you can set up unique URL's. You can also shorten them to avoid a big ugly website link in your post.  You can then see your post results in google analytics.  If you're not using google analytics already, you should seriously consider it.  Read more about why you can't ignore Google Analytics.
6 – MAKE SURE YOUR FACEBOOK POSTS COMPLY WITH THE TEXT RULES BY USING THE FACEBOOK AD CHECKER
Ever created an awesome Facebook post that gets loads of engagement but you find you can't advertise it because it has too much text?  There is a away to avoid this from the outset.  Use the Facebook Ad Checker to upload your post and Facebook will tell you if it will run OK if advertised.  This is also perfect for checking your ad creatives before you set your campaign live.
7 – USE A SOCIAL MEDIA SCHEDULING APP TO POST LIKE A PRO
There are plenty of apps out there to schedule posts to social media.  And many of them have a free version that is more than enough for small businesses.  There are two apps that I really like – Buffer, and Hootsuite.  Buffer has a great interface for scheduling your posts across different social platforms at the same time.  It also now allows direct posting to Instagram which is brilliant.  I also like using Hootsuite because it's an awesome social management and tracking tool.  You can monitor hashtags, see when someone mentions you and manage communications with followers directly in the app.